Who doesn't love a good love story? Well actually let me rephrase that, who doesn't love a good love story pre-modern day Hollywood romantic comedies? I'm slightly obsessed with movies from the fifties and earlier, simply because of the story lines. I mean sure the cinematography isn't as breathtaking as today's amazing effects but it is still beautiful in its own way; the soft glow of a black and white movie will never get old to me. Romance movies that are from my generation are so tragically predictable. I hate that I know what will happen before I even see the movie. Not to mention the story lines are just awful, apparently writers are running out of ideas. Like oh how nice you met at the grocery store, what a creative story. Oh wait no, I'm being sarcastic. I enjoy the real heart wrenching movies where I don't even bother to check my phone in the movie. When I go to theatres to see new movies that come out I'm generally texting during the movie simply because I can multitask while watching the movie. But when I'm watching an old black and white movie, with heartfelt and incredible acting, I just can't look away. I guess I'm kind of branching off now from my original topic though. I don't dislike today's movies, I love them; but when it comes to romance I prefer older movies as opposed to today's cheesy romantic comedies. So from now on I will frequently be posting some of my favorite couples from films of the past.
My number one all time favorite movie from years ago is 1939′s Gone With The Wind; I mean talk about heart breaking. I'm assuming that most of you reading this know the story, or at least have heard of the film or book; I mean it is a classic… But for those of you who are unaware of the story let me break it down for you. The story is based in during the Civil War in the south, Georgia to be exact. Vivien Leigh is the beautifully mistaken and flirtatious Scarlett O'Hara who plays opposite of the wealthy yet scandalous Rhett Butler, played by the oh so handsome Clark Gable. The two meet at a barbecue/ball held at Twelve Oaks, which is an estate owned by the Wilkes family. Scarlett is completely obsessed with Ashley Wilkes, but when she throws herself at him that afternoon she learns that though he claims he loves her he is going to marry a lady by the name of Melanie Hamilton. Scarlett being the over dramatic young lady that she is has a fit, cries madly, and claims she will forever hate Ashley. Rhett over hears all of this, and confronts her with a mouth full of laughs. She instantly is repulsed by him knowing of the scandalous rumors people spread about him. Yet in reality they are quite similar, which is a point he continuously tries to point out to her.
She can get just about any guy that she wants because she flirts constantly, but she does it only in hopes of making Ashley jealous. Through the heart break of the war many of the men she knows die, but Rhett Butler seems to always be around. Though he claims he is not the marrying type he tells her that one day she will speak to him the way she spoke to Ashley that one day at Twelve Oaks. But no matter how old Scarlett becomes she continues to be in love with the idea of marrying Ashley Wilkes, who is already taken. No matter what Rhett or any other man offers her she will never let go of Ashley. Over time more and more people start to dislike Scarlett for her behavior, which makes sense because she is definitely no angel. Rhett eventually takes matters into his own hands and tells her that they must be together and she will marry him because no one else understands her like he does and no one will deal with her like he will. Despite her dislike of him they marry; the only real reason she seems to marry him is because she knows she will be financially set for life.
Clearly Rhett has changed from a man of scandal to a man filled with strong love for Scarlett, but knowing her ways he is too worried to tell her for fear of her reaction. They are both filled with pride that continues to build a wall between them. Eventually he realizes that no matter how much he continues to love her she will never do the same for him, her actions weren't enough. This is where I am just heartbroken, usually stories end happily but in the end he leaves her knowing that he can still attempt to find a better life for himself. I go from being on Scarlett's side at the beginning of the movie to being on his side at the end. When he leaves he actually says what is considered to be one of the most popular movie lines of all time. Scarlett asks what she'll do and where she'll go if he leaves and he simply says, "Quite frankly my dear, I don't give a damn." At the time the line was controversial which is kind of laughable because now it seems like absolutely nothing to things I see and hear in movies now a days.
I can't even do the movie justice through my summarization. I mean sitting down and watching the movie alone takes four hours, trying to write a full description of Scarlett and Rhett's relationship just seems impossible. All I know is that not only am I obsessed with them and wanting a Rhett Butler in my life, but I'm obsessed with the beautiful backdrops and stunning wardrobe. Scarlett wears the most elaborate and ornate dresses I have ever seen in a movie. I would absolutely be her for Halloween this coming year; I just don't know where to even begin on trying to pull that off.
Bottom line is, this movie and story is something that I don't think can be paralleled by anything else. The relationship between Rhett and Scarlett is futile and saddening because Rhett can never fully admit to Scarlett his love for her, and Scarlett isn't cable over realizing how much she could love him if she let herself. That is why I'm so drawn to the story. Every time I watch it I try to envision an ending in which they would be happy together, yet it always continues to end with the two characters parting their ways. The movie is dramatic, beautiful, and constantly has my attention; it is definitely far superior to any modern day romance story, and will continue to be for years to come.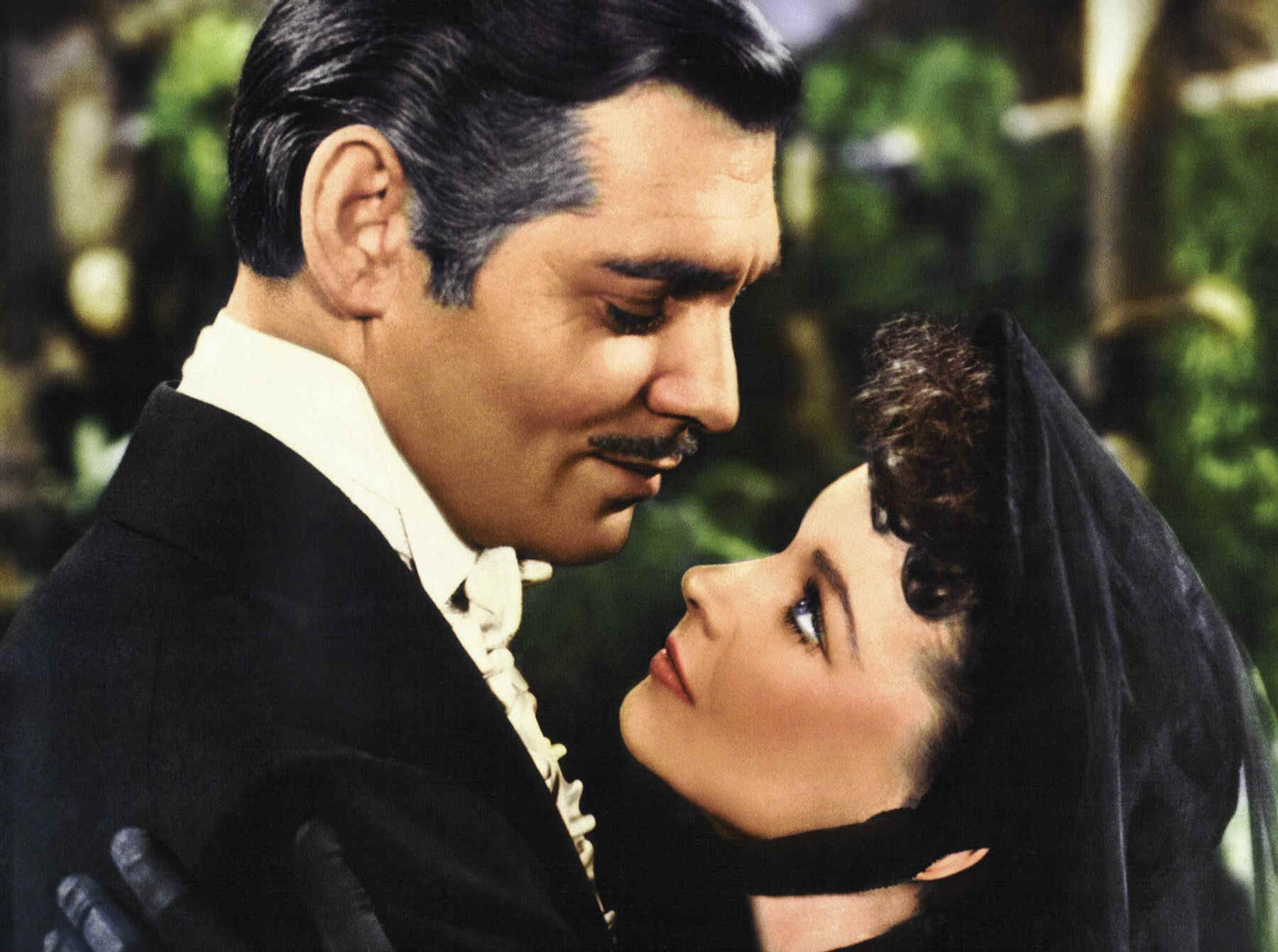 In case my words and pictures haven't convinced you to watch it yet, perhaps this will…
and the fact that it won ten Academy Awards
Yours Truly,
Lomax